BEING PART OF THE PSA
Join our speaking community for the support you need to grow a successful speaking business.
Be part of the conversation.
Make connections with professional speakers who can motivate, inspire and support you.
When you join the PSA, you join a community of speakers working towards a shared ambition of professional speaking excellence.
If you're looking to book the best speaker for your next event, click here to visit our Speaker Directory.
Why join us
Our members choose us for our values
Professional
We RESPECT one another, taking pride in
creating a professional environment
where our Members collaborate freely
and generously
Speaking
We strive for EXCELLENCE. Professionalism
and strong ethics are at the heart of
what we do. Every member takes ownership
of their personal growth to ensure our
professional speaking community
exudes excellence.
Association
We value CONNECTION. It's all about
building a community! Our strength and
power as a speaking association are forged
through coming together and sharing our experiences and expertise.
And for our support:
Continuous Growth
The PSA knows that growth is central to any business's long-term survival and success. However, there will be challenges and changes to achieve your speaking business goals. Let us help you reach your potential.
Community Events
We want everyone to be in the room where it happens. Our local, national and international events bring our community together to connect, learn and be inspired. When we work together, we create infinite possibilities for professional and personal progress.
Speakers' Hub
There is a wealth of resources in our library of videos, created specifically by speakers for speakers. Members can find guidance, resources and tips you need to develop your speaking skills, grow your business and polish up your existing skills. Visit the Speakers' Hub here.
How to join us
Join a community of speakers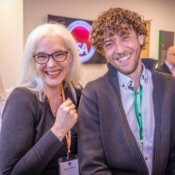 Step 1
Choose your membership
It's time to take the leap! Choose either the Associate or Professional membership option to get started.
Step 2
Pay for your membership
Your annual membership is nearly complete. Simply enter your payment details to open the door to a world of connections.
Step 3
Meet our community
Welcome! You are now an official member of the PSA. We hope you're excited to meet your Professional Speaking Community.